ICCNS-SPRINGER Award 2008 Recipient
Professor Paul Bornstein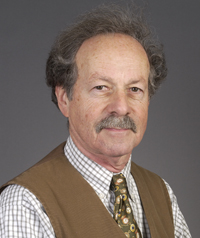 Paul Bornstein is currently Emeritus Professor of Biochemistry and Medicine at the University of Washington. He received his BA from Cornell University and MD from New York University. He trained in Surgery and Internal Medicine at Yale New Haven Hospital, and then spent a year as an Arthritis Foundation Postdoctoral Fellow at the Pasteur Institute in Paris.
In 1963, Dr. Bornstein joined the US Public Health Service as a Research Investigator and worked for four years on collagen biochemistry with Karl Piez at the National Institutes of Health. He was discharged from the USPHS in 1967 as a Senior Surgeon, with a rank of Commander in the US Coast Guard.
After leaving NIH, Dr Bornstein accepted a position as Assistant Professor of Medicine at the University of Washington, and in the following year obtained a joint appointment in Biochemistry. In 1973 he achieved the rank of full professor in Biochemistry and Medicine Over the years, Dr Bornstein's research interests have changed from protein chemistry to the cell biology of cell-matrix interactions, and then to the molecular biology of thrombospondins and other matricellular proteins. He has held positions as Visiting Professor at UCSD, with Jonathan Singer, at Louis Pasteur University in Strasbourg with Pierre Chambon, and at the Whitehead Institute, MIT, with Rudolph Jaenisch.
Dr. Bornstein has been awarded a Lederle Medical Faculty Award, a Research Career Development Award from the NIH, a Josiah Macy Faculty Scholar Award, a John Simon Guggenheim Memorial Fellowship, a MERIT Award from the NIH, and most recently a Solomon Berson Alumni Achievement Award in Basic Science from NYU School of Medicine. He has been elected to membership in the American Society for Clinical Investigation and in the Association for American Physicians. He has also served on many Editorial Boards including the American Journal for Cell Biology, and the Journal of Biological Chemistry.
Dr. Bornstein founded the American Society for Matrix Biology in 2000 and served as its second Vice-President and President; he also served as Vice-President and President of the International Society for Matrix Biology, chaired two Gordon Conferences in the matrix field, and served on numerous Academic and Industrial Advisory Boards He is the author of nearly 300 research papers, reviews and book chapters.