Books

About the Book
CCN Proteins in Health and Disease
Springer
Edited by Annick Perbal (International CCN Society), Masaharu Takigawa (Okayama University, Japan) and Bernard Perbal (L'Oréal) this book presents a series of original articles written by worldwide leaders in the field of CCN proteins based on their communications at the 5th International Workshop on the CCN genes that was convened in Toronto, ON.
The CCN family of genes currently comprises six secreted proteins (designated CCN1-6 i.e., Cyr61/CCN1; ctgf/CCN2; Nov/CCN3; WISP1/CCN4; WISP2/CCN5, and WISP3/CCN6) showing a strikingly conserved primary structure, with four modules sharing partial identity with IGF binding proteins, Von Willebrand protein, thrombospondin and several matricellular proteins and growth factors. The current view is that CCN proteins modulate signaling pathways that involve regulatory components of the extracellular matrix. As such, they likely act as a central hub in the regulation of mitosis, adhesion, apoptosis, extracellular matrix production, growth arrest and migration of multiple cell types. The 5th international workshop on the CCN family of genes, that was held in Toronto in 2008 brought together scientists from around the world who have an interest in the biological roles of this emerging family of proteins. On an educational point of view, the workshop was a unique place for an efficient diffusion of scientific information. The present book comprises a series of selected manuscripts that are based on the original communications that were presented at the meeting by worldwide leaders in the field of CCN biology. All major aspects of CCN proteins biology in both normal and pathological conditions are covered in this volume, from structure-functions analysis up to the involvement of CCN proteins in complex physiological functions. In addition to reports that support the Yin-Yang concept of CCN proteins driving opposite effects on the same biological process, this book also comprises several contributions that point to CCN proteins as amenable targets for therapeutic manipulation of disease processes. Together with the special issue of Journal of Cell Communication and Signaling (JCCS) in which authors have extended on the original data presented at the meeting, the present Proceedings provide an instant picture and unique update of the state of the art in the CCN field. .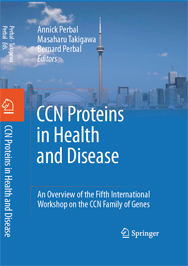 Table of Content:
Introduction: A Recent Breakthrough in the CCN Field : Functional Interactions Between CCN2 and CCN3 are Uncovered. (B. Perbal)
Report on the Fifth International Workshop on the CCN Family of Genes. (AE Irvine et al.)
Asking the right questions: What can the structure of the CCN protein domains tell us? (K. P. Holbourn et al.)
Nucleophosmin/B23: A multifunctional regulator that determines the fate of CCN2 mRNA. (S. Kubota et al.)
The CCN genes as the "master" regulators of angiogenesis, vasculogenesis, fibrogenesis and cell differentiation/fate specification in mechanical force-driven developmental and pathological events. (M. Hanna & B. Chaqour)
A monoclonal antibody approach to CCN5 domain analysis. (Lan Wei et al.)
Matricellular protein CCN2 produced by tubular epithelial cells plays a pivotal role in renal fibrogenesis. (H. Okada et al.)
Cooperative regulation of cell proliferation and differentiation by CCN2 and CCN3. (M.Takigawa et al.)
The role of CCN3 in mesenchymal stem cells. (K-I Katsube)
Role of connective tissue growth factor in cardiac fibrosis. (D. Kawanami et al.)
Gene expression of CCN family members in young and aged human skin in vivo (T. Quan et al.)
Global expression profiling reveals a role for CTGF/CCN2 in lactogenic differentiation of mouse mammary epithelial cells. (W. Wang et al.)
CCN3 (NOV): A negative regulator of CCN2 (CTGF) activity and an endogenous inhibitor of fibrosis in experimental diabetic nephropathy. (B. L. Riser et al.)
Inhibitors of connective tissue growth factor (CCN2)-mediated fibrogenesis: Underlying mechanisms and prospects for anti-fibrotic therapy. (D. R. Brigstock)
CCN3 promotes melanoma progression by regulating integrin expression, adhesion and apoptosis induced by cytotoxic drugs. (V. Vallacchi et al)
CCN3: A NOVel Growth Factor in Leukaemia. (L. Mc Callum & A. E. Irvine)
CCN Proteins and Connexins: Interactions and Growth Control (C Fu et al.)
Prognostic relevance of CCN3 in bone sarcomas. (B. Perbal et al.)
CCN6 regulates breast cancer growth and invasion through modulation of IGF signaling and epithelial to mesenchymal transition (A. Pal et al.)
Novel Transcriptional Regulation of CCN2/CTGF by Nuclear Translocation of MMP3. (T. Eguchi et al.)
Abstracts and Posters of the Fifth International Workshop on the CCN Family of Genes.
‪
About the First Book
CCN Protein: A New Family of Cell Growth and Differentiation Regulators
Imperial College Press. London England UK
Edited by Bernard Perbal (Université Paris, France) & Masaharu Takigawa (Okayama University, Japan) this book presents the most recent progress in the field of CCN proteins. The book covers the roles of CCN proteins in the control of cell proliferation and differentiation during normal development, wound repair, chondrogenesis and bone development, angiogenesis, tissue regeneration, fibrosis, renal diseases and cancer development.
The CCN Proteins are secreted regulators that play key roles in the biology of normal cell, tissue, organ, and body. These proteins share a unique multimodular organization and present a partial identity with four families of regulatory proteins controling growth and development. Abnormal expression of CCN proteins is associated with several pathologies, including fibrosis and cancer. Because of its importance, the CCN field is expanding at a fast pace. In as much as the number of research articles and reviews in this field has increased logarithmically over the past few years a book that is up-to-date, comprehensive, authoritative and affords insights into the biological roles of CCN proteins, is very helpful for both established researchers in the CCN fields and all those who are interested in the biology of matricellular proteins.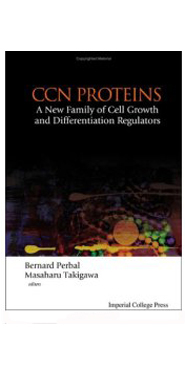 Table of Content:
The CCN Family of Proteins: An Overview (B Perbal & M Takigawa)
Roles of CCN2/CTGF in the Control of Growth and Regeneration (M Takigawa et al.)
Integrin-Mediated CCN Functions (L F Lau & S C-T Lam)
Expression and Roles of CCN2 During Odontogenesis (M Kanyama et al.)
CCN Genes and the Kidney (B L Riser et al.)
CCN Proteins in Liver Injury and Disease (A W Rachfal & D R Brigstock)
Genetic Analysis of CCN Gene Function in Mammalian Development (L M Dornbach & K M Lyons)
CCN Family in Embryonic Development (Non-Mammalian Models) (B V Latinkic)
CCN3 Expression and its Role During Development (K-I Katsube)
Regulation of CCN Proteins by Alternations of the Cytoskeleton (B Chaqour & M Goppelt-Struebe)
Pathogenesis of Systemic Sclerosis and CCN2 (Connective Tissue Growth Factor) (K Takehara)
Function and Regulation of CCN5 (M R Gray & J J Castellot Jr)
CCN3: A Multifunctional Signaling Regulator (N Planque et al.)
CCN Proteins and Connexins: Interactions and Growth Control (C Fu et al.)
The Role of CCN1 in Tumorigenesis and Cancer Progression (J O'Kelly & H P Koeffler)
CCN4 and CCN6 Variants Wnt-Inducible Signaling Pathway (S Tanaka)
‬